A day trip to Český Krumlov – 5 things you shouldn´t miss
Český Krumlov is the second most visited place in the Czech Republic. Being just 3 hours away from Prague it´s definitely a great place for a day trip. The town is small. It has only 13 000 inhabitants and the UNESCO historic center has just 169 houses and takes 10 minutes to walk from to the main square to the castle. If you plan well it´s possible to see the most important things about Český Krumlov in one day. I want to give you a list of five things you should do if you travel to Český Krumlov only for one day.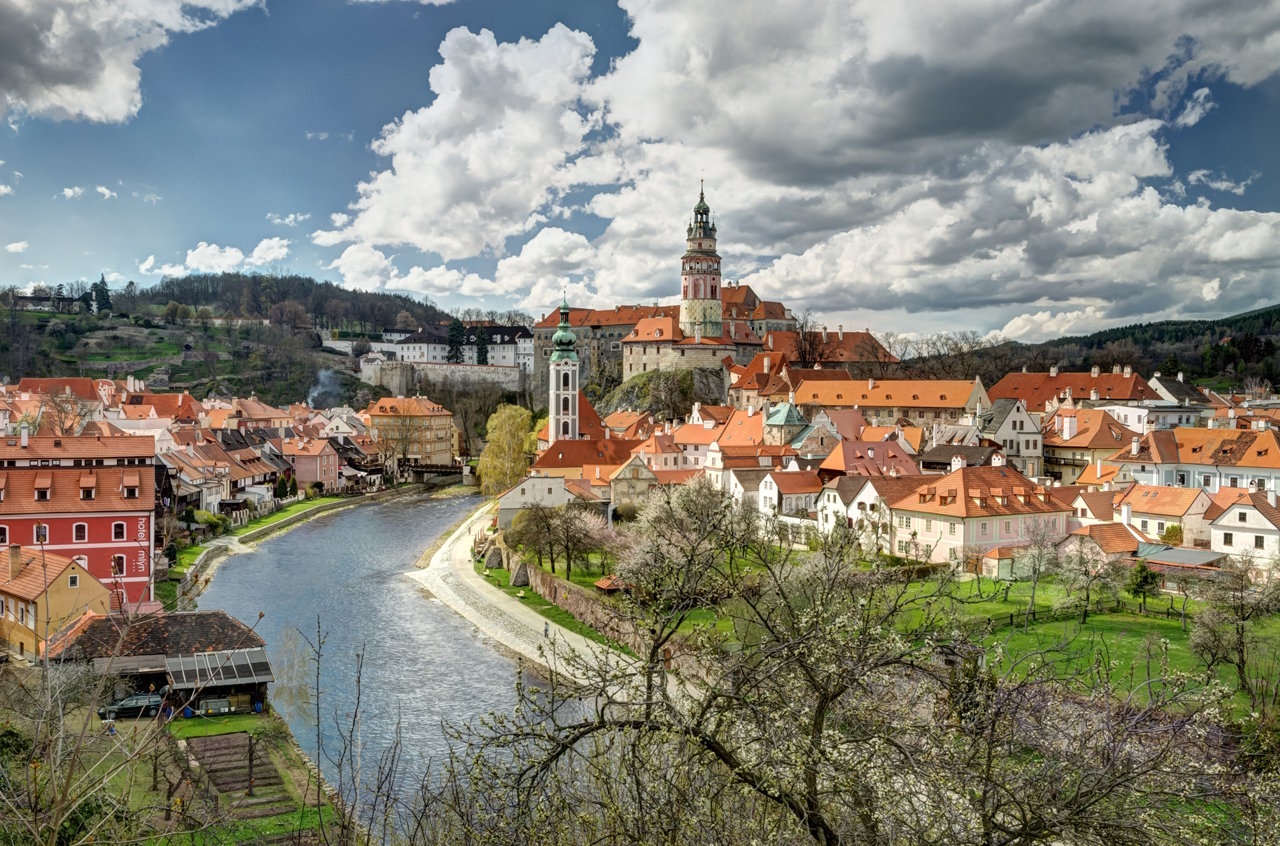 You can get to Český Krumlov easily by bus, train or shuttle – this is how to travel to Český Krumlov from Prague.
Before you get to Český Krumlov buy a ticket to the castle baroque theater because it´s the most precious historical building of the town. I wrote a whole article about the theater and how you make the reservation there. Check it out.
It´s necessary to arrive before 10 am. Leave your bus in the first bus stop of Český Krumlov and follow the google map to the point where the tour starts. If you are not able to get to Český Krumlov in time don´t worry. Skip the theater for now and join your Free Walking Tour. There is a chance there is another castle baroque theater tour at 1 or 2 pm. You have to go to the castle ticket office in the second courtyard of the castle (the one with a fountain in the middle) and check it´s availability yourself.
This is the best introduction of the town. We have been # 1 Tripadvisor activity of Český Krumlov for many many years providing great tour experience to travelers all around the world. Our tour begins every day in the main square (náměstí Svornosti) of Český Krumlov either at 10:30 am or 2 pm. Look for a tour guide wearing a red t-shirt and holding a red umbrella. In two hours you´ll learn everything about the history of Český Krumlov, you´ll see the old town and also the exteriors of Český Krumlov castle and you´ll meet new friends on the tour.
3. Have a great lunch
Trips I love the most are trips with a pub or a restaurant. In the town of Český Krumlov there are almost 200 hundred restaurants to choose from. It´s an overwhelming number and that´s why I chose 3 places you should consider having lunch.
Hospoda Na Louži is a traditional Czech restaurant with domestic cuisine and great local beer. Located close to the main square the place is loved not only by locals but also by tourists. You can find it in many respected travel guides, like the Rick Steve´s or the Lonely Planet. Try traditional roast pork with dumplings and cabbage or fried cheese. You´ll love it.
If you are looking for a fancier place and international cuisine, Papa´s living restaurant is a place you should visit. Its good food, nice selection of wine and friendly waiters will make your day. In summer there is a great terrace on the river – a great place to chill.
If you miss burgers (or burritos) visit Hospoda 99. Usually three kinds of beer on tap, always a great cabbage soup and American and Mexican food. Go there, you won´t regret it.
Český Krumlov castle is the second biggest castle in the Czech Republic after Prague castle. It took 500 hundred years to finish this monster with 5 courtyards, 40 buildings, and more than 350 rooms. Being nationalized by communists and never returned to its previous owners it´s a tourist attraction you shouldn´t miss.
Usually, it´s not necessary to make a reservation for the castle tour. Just buy a ticket in the second courtyard and go up the hill to the next one where the tour starts. On this one-hour-long tour, you´ll see about 20 renaissance and baroque interiors, golden carriage or rugs of castle bears that lived in died in the bear moat in front of the castle.
5. Experience a boat trip around Český Krumlov (last trips available at 5 pm or 6 pm)
The town is not famous only because of it´s renaissance look but also because of the most famous river of the Czech Republic – Vltava. It´s not only the most beautiful river in the country but also the most popular river for boat trips. If you want to be like Czech people who rent a boat every year, get drunk and go downstream for days, you should definitely try rafting. In one day I recommend a 30-60 minutes long boat trip around the town. There are many companies providing this kind of trip in Český Krumlov, prices are between 700-800 CZK for two people. Try Ontario boat rental or Vltava sport service.
Of course, this is not the complete list of things you can do in the town. You can climb the castle tower (from 9 am to 6 pm in summer) and go to the castle museum. Or you can visit a modern art gallery dedicated to famous painter Egon Shiele, see a museum of a local photographer Joseph Seidel or visit a medieval monastery in front of the castle.
Even though the last bus to Prague leaves at 9 pm, majority of Český Krumlov attractions close at 6 pm. Until 7 pm (from May to September) you can see the baroque castle gardens above the castle and enjoy beautiful ornamental flower beds and an English park with an artificial lake. Later you can have dinner or join our Private tour or the Night tour with us.
Český Krumlov, being one of the most charming towns in the world, is also a perfect place for a day trip. Arrive before 10 am, go to the baroque theater, learn about the town on the Wiseman Free Tour, do a boat trip and see the castle. It will be a long day but it will be definitely worth it.